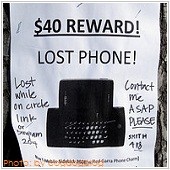 No need to panic if you lose your cell phone. Just make use of these apps that help secure your gadget from loss or theft. Check out which app supports your gadget. Technology has become part of mankind's daily existence. Everywhere you look, somebody is sporting a new gadget or two, and sometimes even more. In fact, many use a cell phone, laptop computer, iPod, and even an iPad as part of their daily routines. With multiple gadgets being used by a single person, one is bound get misplaced occasionally 
–
 or worse, stolen. This can be very annoying and even devastating, especially if the gadget contains sensitive information. Fortunately, with ongoing improvements in technology, manufacturers of many gadgets have also developed apps that can help locate a lost or stolen gadget. 1.       
Find My iPhone, Find My iPad, and Find My iPod touch
These three apps work the same way, featuring MobileMe, and now they're free on every iPhone 4, iPad, and iPod touch 4
th
 generation with iOS 4.2. If you misplace your gadget, you just sign in to 
me.com
 using any computer web browser (or use the Find My iPhone, iPad or IPod touch app on another device) to display the misplaced gagdet's approximate location on a map. Another option is to write a message and display it on the screen of your gadget. Your message will appear even if the screen is locked. Also, if your gadget is nearby but you can't find it because it's under a pile of papers or your bed, you can tell Find My iPhone to play a sound that
… Continue reading the story "

Lost Your Gadget? These Apps Can Help

"