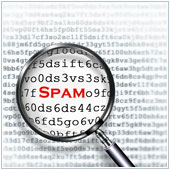 One of the more important, and indeed popular, marketing tools for small to medium businesses is email marketing. When employed correctly, the email can be a great way to not only grow your business connections but to also connect with your customers. One of the main downsides of this type of email blast marketing is that there is a good chance your emails will be blocked by spam filters. If you are developing a new email marketing campaign, you need to first know a bit about spam filters. Because there are no set rules that all spam filter developers adhere to, you will notice that filters vary in how effectively they can block emails. Some filter nearly all spam while others filter only the most obvious spam messages. Getting past these filters takes trial and error but there are tips you can employ to succeed.
1. Take a look at your content
It is worthwhile looking at the coding of your email. Because some email scammers include hidden HTML or other coding that the recipient won't see in an email, many filters are now set up to scan the code of an email as well. You should get someone who is proficient to either develop a cleanly coded email template you can use, or to audit the code to ensure there are no problems. Beyond this, take a look at the actual content you are including in your email message. If you are including special offers, sales, and content that isn't overly useful,
… Continue reading the story "

Tips On Ensuring Your Email Isn't Spam

"