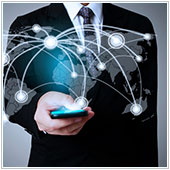 It is quickly becoming expected that popular program developers also create mobile apps that allow users to access parts of, or all of the main program. Take for example Microsoft's cloud based Office suite Office 365. People have been asking Microsoft to release a mobile app for a while now, and they have finally answered with an Android app.
The app, released in late July, is a scaled down version of the ever popular Office 365 platform.
Users can access Word, Excel and PowerPoint documents that are stored either on the device or on SkyDrive/SkyDrive Pro.
These files, as long as they are stored on SkyDrive, will be automatically updated when you make changes from your Android phone. When you access these files, or try to edit them, the extra parts of the app disappear allowing you to focus solely on the document, making it easier to edit.
A bit more about the app itself
The app is available for free on the Google Play store, however you do need to have an active Office 365 subscription that includes the Office suite e.g., a subscription to Office 2013, Office 365 Small Business Premium, etc. When you first open the app, you will be asked to sign in using your account and password, and your documents and information will be synced.
At the moment, the app only supports Android smartphones that are running Android 4.0 – Ice Cream Sandwich and later. While the US is the only country fully supported, Microsoft has noted that it will soon be available in 117 countries.
If you meet the requirements, and want to access your files from a mobile device, this can be a great app for you. There is one downside however – it won't work on tablets.
Why no tablet support
Microsoft hasn't given an official reason as to why there isn't a tablet specific app. One of the reasons could be the fact that Microsoft is throwing its weight behind their own tablet – the Surface RT and Pro.
If you have an Android tablet and would like to access your Office documents, you can log in using Office Web Apps, from your device's browser.
If you would like to learn more about Office 365 and how it can help make your employees more productive, please contact us today.
Published with permission from TechAdvisory.org.