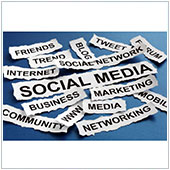 It's not hard to appreciate that the smartphone has become one of the most important tools at a manager's disposal. Apps are one of the reasons for this, as they open up all sorts of possibilities, such as enabling us to access social networks and communicate on the go. Unfortunately, users of the Windows Phone may feel a little limited when it comes to apps. However, the reality is that there are actually some great social media apps available.
Here is an overview of five useful, and mostly free, social media apps for Windows Phone.
Facebook Beta
The Facebook Beta app is essentially the Facebook mobile app, but with some new features that Facebook wants to introduce in the near future. The latest update includes the ability to upload multiple photos, download photos, attach images in messaging and inline tagging (being able to mention another user in a post). While these features may be appealing, they are still in beta, meaning that Facebook is testing them with users. With some beta programs apps may not be 100% stable. That being said, being able to access new features sooner is something many users welcome.
You can download the app for free from the Windows Phone Store.
Pin+
Pinterest has become one of the fastest growing social networks and many businesses have found some intriguing uses for it. The downside is that there is no official Windows Phone app. What there is instead though is Pin+. This unofficial app brings Pinterest to your phone, with almost all of the functionality available with the Web version.
If you want to use Pinterest on your smartphone, this is the app that allows it. You can download it for free on the Windows Phone Store.
4th & Mayor
Foursquare is a popular social media service where you can 'check into' businesses and see who and what is around you. While there is an official app for Windows Phone, some users aren't big fans of it. 4th & Mayor is an alternative app that uses the Foursquare programming interface. It has all the functionality of Foursquare, just with a different, more user friendly layout.
It's available for free on the Windows Phone Store.
6tag
It's widely known that visual content is the key to keeping users interested and invested in your social media efforts. Instagram is a great program for creating visual content with your device by allowing you to take pictures, apply filters and then upload and share images on various social media sites. Unfortunately, there is no official app for Windows Phone, and likely won't be for some time to come. What you do have is 6tag. This unofficial app was built using the Instagram system, and includes all the same features like filters, sharing on social media, uploading and even video.
The basic version is free on the Windows Phone Store, but does have ads. You can upgrade to remove ads for USD$1.29 and add video support for USD$1.49.
6tag
Spend any time on social media and you soon understand that trends come and go at an astonishing speed. It can be incredibly hard to stay on top of them all let alone figure out what is worth looking into. Social Mints is an app that lets you monitor and follow social media trends. Put in a popular term and watch as updates pop up in real time. You can even learn through which mediums people are talking about it, including related keywords and top posters.
If you're looking for a way to keep on top of trends, this is a great app. It's available for free on the Windows Phone Store.
Looking to learn more about the Windows Phone? Give us a shout, we'd love to help you explore and exploit the full potential of what you can do and how it could potentially help your business.
Published with permission from TechAdvisory.org.