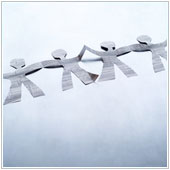 On November 8 typhoon Haiyan slammed into the Philippines leaving a trail of unimaginable  destruction. Watching the various news channels covering the disaster and recovery, business owners can't help but reflect how a disaster would affect their ability to cope and survive, as well as the safety of those they work with, of course. This is why many businesses implement business continuity plans. However, in doing so, they may not necessarily know how technology can help. Technology can help small to medium sized businesses develop and execute both disaster recovery and business continuity plans in many ways. Here are five:
1. It helps enable more efficient communication
The majority of business owners and employees now have smartphones, tablets and laptops that they use on a daily basis. What these devices have done is enable better communication, which is also a major part of a continuity plan. With a multitude of chat apps like WhatsApp, Google Hangouts and iMessenger, companies can set up group chats that can be accessed via multiple devices from nearly anywhere. This means that you can get information out fast, with a higher chance of reaching the people you need to during and after a disaster. Combine this with virtualized systems like email and VoIP, both of which are usually hosted off-site and are highly likely to remain optional during a disaster, and you further boost the chances and effectiveness of communication.
2. It makes developing plans easier
Let's face it, when developing a recovery or continuity plan, there is a ton of
… Continue reading the story "

Technology and business continuity

"