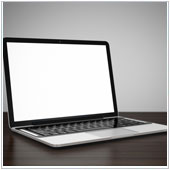 The holiday season is approaching and many people are starting to get their festive shopping started. This year, as with previous years, laptops will undoubtedly be a popular gift. However, with so many different types of laptops out there, it can be tough to find the perfect one to give as a gift, whether you are treating yourself, a loved one or an employee. To pick a laptop that will be not only be reliable but also make a great gift, follow our four great tips.
1. Think: What will this laptop be used for?
Because there are so many different laptops available you can guarantee that there will be a laptop that meets the needs of any user. Before you get buying a laptop for someone else, pause and make a list as to how the laptop will be used. If you are buying a laptop for someone who will be using it for work, and works on a daily basis with intensive software like Photoshop, then look for one with higher-end hardware. If the laptop is going to be used for everyday work, like word processing, email and spreadsheets, you likely don't need one with high level hardware. When considering different laptops, it is a good idea to actually try the laptop out in the store to see if it can handle what it will be used for.
2. Go with a company offering great tech support
Support is a factor many people who buy laptops don't consider. The truth is, there is
… Continue reading the story "

4 tips on purchasing laptops

"