Desktop Virtualization Experts
LG Networks has the expertise to allow companies to virtualize their Windows Desktops in the datacenter while accelerating and extending desktop and application deployments from the datacenter to any device.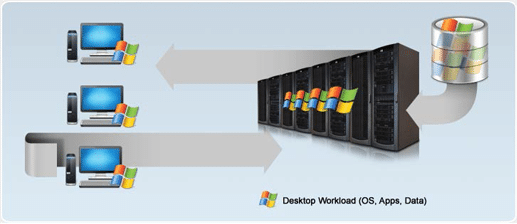 Desktop Virtualization Consulting Services
Some of our many successful desktop virtualization projects include:
Provided an IT firm with a stable centralized place for software developers to work., Intellectual property is no longer on desktops, and if the software developers don't check their files into source control, they can still be retrieved off their desktop
Gave a professional services the ability to have their staff work from home
Allowed an insurance servicing bureau to continue to use older PCs as thin clients minimizing their cost of ownership
LG Networks can help you get up and running with minimal impact to your ongoing business processes while delivering a custom blend of service and technology consulting.
Your business, like most, puts security first; and so does LG Networks.
A Gold Certified Microsoft partner, LG Networks puts security first, ensuring your remote desktops are as safe as those you keep in-house.
Additionally, LG Networks has the team and talent to rapidly deploy Microsoft VDI and deliver entirely new levels of flexibility and performance in your virtual workspaces.
Administration of this environment is made easy for you as well. Your IT team will have the ability to centralize user desktops, and each user can enjoy a custom desktop experience with full administrative control over their desktop and applications.
With more and more organizations going out of house and outsourcing both for projects and positions, VDI is a tremendous fit as it enables contract and offshore workers to easily access their work environment, including from machines that are not owned by your organization.
LG Networks knows that business can ramp up quickly, and that scalable businesses need scalable solutions. LG Networks also retains data center resources to facilitate your project from end to end,
The Microsoft VDI Standard Suite and RDS Platform Provides:
Desktop Delivery: basic connection broker to deliver personalized and pooled virtual machine-based desktops in low-complexity environments; web-based remote access and full-fidelity end user experience
Application Delivery: separation of application layer from image with app streaming; reduce app-to-app conflicts and need for regression testing; easy application life cycle management via policies
Virtualization Platform: reliable, micro-kernelized hypervisor with small footprint; supports live migration
Management: integrated, end-to-end management; dynamic provisioning of apps to physical, virtual and session-based desktops; rapid VM provisioning with cloned VHDs; support for failover clustering and storage migration; patching, updating and monitoring of physical VDI host
Areas Covered
We provide a range of Computer Support, Managed Network Services and IT Consulting in Dallas, Garland, Plano, Richardson, Addison, Irving, Arlington, Fort Worth, Rockwall, Mesquite, Grand Praire and Carrollton.
Local experts who can visit on-site: Dallas Computer Support, Garland Managed Network Services, Plano Backup and Data Recovery, Richardson IT Consulting, Addison Cloud Computing, Irving Hosted Email, Dallas Computer Hardware, and Garland Hosted Software. We Provide IT Outsourcing for Companies in Dallas, IT Outsourcing is available in Plano. Also, IT Outsourcing is available in Richardson.
We offer Managed Network Services to the following areas: Managed Network Services Dallas, Managed Network Services Plano, Managed Network Services Addison, Managed Network Services Irving, Managed Network Services Fort Worth. Local Companies Want Our Managed Network Services Dallas, Managed Network Services Plano, Managed Network Services Addison, Managed Network Services Irving.
We also provide IT Support Dallas, IT Support Plano, IT Support Garland, IT Support Addison, IT Support Irving, IT Support Richardson, IT Support Garland, IT Support Mesquite, IT Support Fort Worth, IT Support Arlington.
We also provide Network Support Dallas, Network Support Plano, Network Support Garland, Network Support Addison, Network Support Irving, Network Support Richardson, Network Support Garland, Network Support Mesquite, Network Support Fort Worth, Network Support Arlington.