Security
Network Security and Computer Data Security for businesses like yours throughout Dallas, Garland, and Plano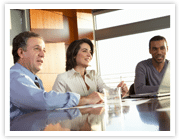 Are you always worrying about the safety of your business and potential harm caused by hackers, viruses, and malware? Are you concerned over lost USB drives and laptops creating an internal threat?
With complete Computer Data Security that's created with your specific business needs in mind, you can end anxiety over the many threats to your business and data. Our Network and Data Security along with virus removal, malware, and spam protection services give your business in Dallas, Garland, Plano, and Richardson thorough protection against dangerous threats to its system.
A comprehensive security solution from LG Networks means your business gets:
Hazard Detection – safeguard yourself from online predators, hackers, and other online threats
Susceptibility Testing – we detect flaws that make your system vulnerable and suggest the correct remedy
Virus Protection – safeguard your organization from malware and spyware
Secure User Entry – consisting of encryption, password protection, and virtual private networks
When your business is defended by an overall security strategy, you can plant the seeds to grow success.
LG Networks, Inc. brings vast experience in the creation of comprehensive security solutions that will ultimately protect your business. Serving Dallas, Garland, Plano, Richardson, Addison and Irving, we provide Wireless Network Security services that can give you the peace of mind to stop worrying about security and get back to business.
Whether your company needs network antivirus solution, antivirus and Internet protection, intrusion blocking, wireless network security, computer data security, virus removal, computer & PC security, wireless protection, or security consulting, we'll take care of it.
If you and your staff use the Internet, your company is vulnerable to damage and security issues caused by online threats. Secure your business for good, with Computer Data Security and Virus Removal services now.
Areas Covered
We provide a range of Computer Support, Managed Network Services and IT Consulting in Dallas, Garland, Plano, Richardson, Addison, Irving, Arlington, Fort Worth, Rockwall, Mesquite, Grand Prairie and Carrollton.
Local experts who can visit on-site: Dallas Computer Support, Garland Managed Network Services, Plano Backup and Data Recovery, Richardson IT Consulting, Addison Cloud Computing, Irving Hosted Email, Dallas Computer Hardware, and Garland Hosted Software.