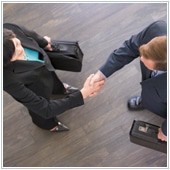 Healthy business relationships are part of what makes a successful business. And like any other business relationship, it's important to be able to connect with and trust your Managed Service Provider (MSP) in order to maximize your partnership with them and your company's own productivity and growth. Business relationships are cultivated. Grown. That's what you do – at least if you want your business to flourish. The healthier your business relationships, the more productive and efficient your operations become. Naturally, this applies to your relationship with your Managed Service Provider (MSP). Your IT is an important part of your day-to-day operations, and contributes greatly to how productive your business can become – so establishing good working rapport with your MSP is especially essential. Here are a few pointers for building and maintaining a great relationship with your current or prospective MSP partner.
Assess what your MSP can provide for you
Sit down with your MSP to learn their ideas for your business, then carefully assess whether the services they offer support and augment your operations – current and planned. Look closely at contracts and make sure you understand the fine print, and carefully evaluate whether the service agreement meets your needs. Do some research about prospective MSPs (which is easy to do through the Internet) to verify their claims. Making sure you have the right fit is an important first step in getting the most out of an MSP.
Define roles and manage expectations
Make sure that roles and responsibilities are clearly defined and understood early in the process, especially if your MSP
… Continue reading the story "

Working with Your MSP Effectively

"